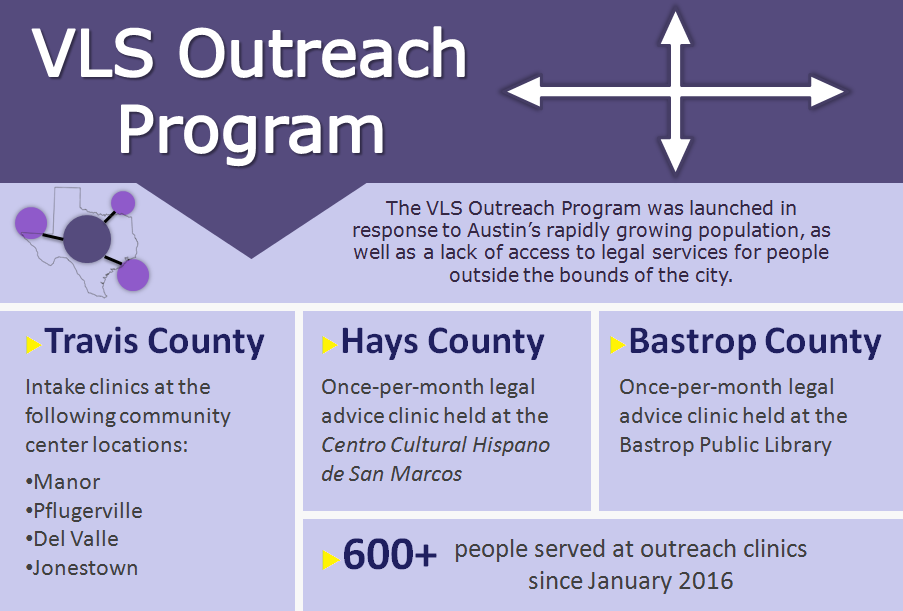 Assist With Our Outreach Program
NEW: We are currently in search of volunteer attorneys to help with our Attorney-on-Call Program! Please click here for more information.

As Austin's population grows by leaps and bounds, so too does the number of people living in poverty who cannot afford the services of an attorney but live too far from the city of Austin to access free legal help offered within its boundaries, like our Monday-Wednesday evening legal clinics. In response to this massive growth and population change, Volunteer Legal Services launched its Outreach Program in order to address the legal needs of people living in suburban and rural areas outside of Austin.
This program is designed to give the community local access to our organization by  having our Outreach Coordinator set up a table at local community centers where the general public can inquire about and apply for our services, as well as hosting monthly legal clinics in these outlying areas.
Those interested in helping with the Outreach Program should contact our Outreach Coordinator, Lexie Cooper, directly at 512-640-7748 or via email at lcooper@vlsoct.org.